Ignite is a cognitive assessment tool designed for early detection and monitoring of genetic frontotemporal dementia.
Ignite
Ignite is an app which tests cognition. It has been designed specifically to test people with genetic FTD and so is focused on executive function, social cognition and semantic knowledge as well as other cognitive domains.
At present the app is available only for iPads and is downloadable from the App Store.
Each test is a short, gamified version of a standard cognitive task and aims to be a sensitive method of picking up early cognitive impairment in presymptomatic genetic FTD.
The current tasks in Ignite are as follows: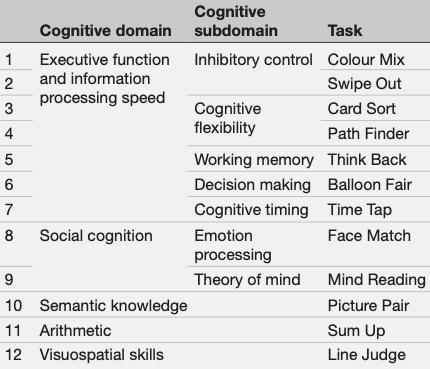 Ignite has been tested in 2004 cognitively-normal healthy individuals between the ages of 20 and 80, with at least 100 men and 100 women in each decade having undertaken the battery. Using this data we have created a normative dataset, adjusting for the effects of sex, age and years of education. If you have taken the Ignite battery and would like to know how you perform compared to others, we will soon have a webform on this site where you can enter your results and generate a report on each of the tasks.
---
Using Ignite in other studies
If you are interested in using the Ignite app please email us at genfi@ucl.ac.uk.